PhD candidates
Bérénice Boutin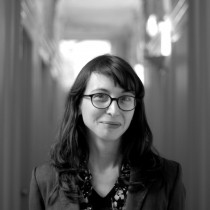 Bérénice is a PhD candidate in the SHARES Project.
She is writing her thesis on the topic of Shared Responsibility in International Military Operations. The research intends to uncover the principles and processes to obtain reparation for injuries caused by multiple actors in military operations. The research area covers the United Nations and NATO peacekeeping and enforcement operations, as well as the operations of a coalition of States.
Bérénice holds an LLM in Public International Law from the University of Amsterdam (2010) and a Research Master in Private International Law and International Commercial Law from the University Paris I Panthéon-Sorbonne (2008).
Blogposts by Bérénice Boutin
Publications by Bérénice Boutin